PREVENT & PROTECT THE SPREAD OF VIRUSES
As states loosen restrictions and businesses begin to reopen across the country, employee and customer safety is top of mind. These are unprecented times and Brady understands the challenges our customers are facing as they navigate new guidelines to reopen.
We are learning new things everyday about COVID-19 (coronavirus) but we still know the best defense against it is prevention. With more than 70 years of experience as a leader in the cleaning industry, our team is ready and prepared to serve as your partner when it comes to your cleaning needs. We have identified products that have been effective in preventing and protecting against the spread of germs and viruses: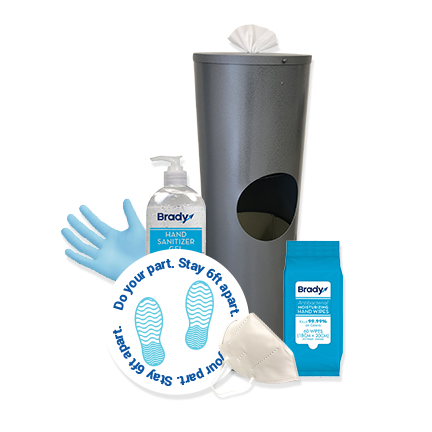 Hand Sanitizers and Hand Wipes
Social Distancing Floor Decals
Let our team support your implementation plans as you welcome back your customers. Contact one of our Brady sales representatives at 800.293.4698.


ADDITIONAL RESOURCES
The Centers for Disease Control and Prevention (CDC)
United States Environmental Protection Agency (EPA)
United States Food & Drug Administration (FDA)
World Health Organization (WHO)